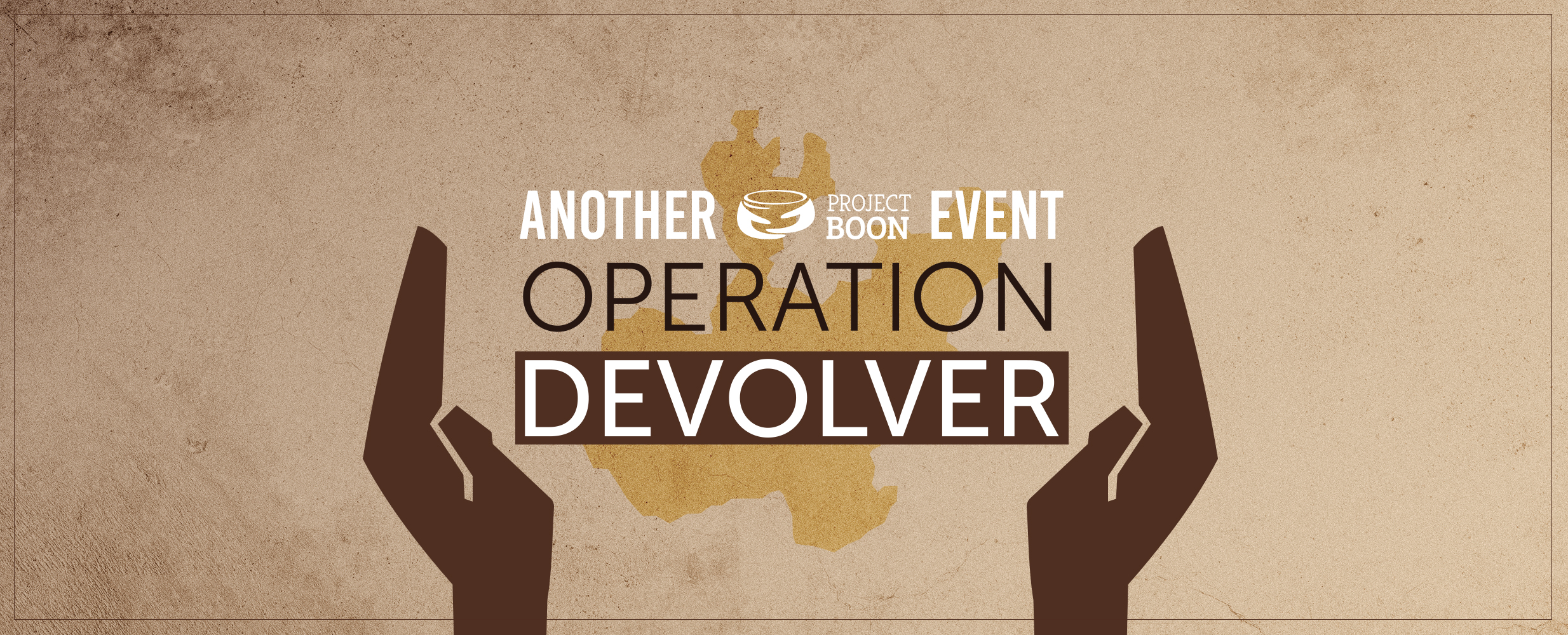 Supporting the Underserved Families & Children of Tuxpan
Operation Devolver events send caring individuals, food, household necessities, and children's toys to the underserved areas of Tuxpan, a town in southern Jalisco, Mexico.
With the personal connections and immediate impact that Operation Devolver offers, those in need are able to improve their impoverished conditions and the lives of their children.
Simple Giving
Operation Devolver is a charitable cause that keeps things simple. It eliminates bureaucracy and expense in order to realize the greatest good.
Events focus on what matters: bringing together
people in need, those willing to help, and the resources that can make a difference.
Incredible Return
Our support of Tuxpan's underserved families started as a personal mission. Then, as we realized the good even a few people could do, we began to ask: What if others got involved?
We invite you to take part in Operation Devolver.
By joining us online or in person for an event, you'll have a chance to see how your help provides for better lives and happier, healthier kids.
About Operation Devolver
Operation Devolver events improve the lives of underserved families living in the town of Tuxpan by connecting them with committed volunteers, food, household necessities, back-to-school supplies, and children's toys.
It's a big idea that began in a small way. With a Styrofoam ball, in fact.
But we'll get to that…
About Tuxpan
Tuxpan is located in the Mexico state of Jalisco. It is made up of communities that vary in economic prosperity, but each is filled with wonderful people who share a rich heritage and history.
Unfortunately, families in poorer areas of Tuxpan receive little in the way of government assistance and services. Their homes have no electricity or running water, and heavy rains collect in these places, making it difficult and dangerous to build proper infrastructure.
We decided that they shouldn't have to do it alone.

Ana Karina and Christopher
Karina Suchánek (Vazquez) grew up in Tuxpan and went on to earn her degree in business from Universidad Jesuita de Guadalajara.
After graduation, Karina immigrated to the United States. She worked her way to become the general manager of Cowboy Burgers & BBQ. It was one of her proudest moments, and she decided to make the most of her opportunity. Today, she is the owner of multiple restaurant locations throughout Southern California.
In addition to her business success, Karina met Chris Suchánek, CEO of internet marketing company Firm Media Inc. Chris formed Firm Media as a triple bottom line organization: people, planet, and profit. He has directed the company's charitable efforts, such as Eat and Be Well, to support the underserved community in Southern California.
Soon, Karina and Chris fell in love. They began sharing more of their lives together, including the commitment they had made to care for those in need.
The Styrofoam Ball
Karina took Chris to visit Tuxpan in January 2012. As they celebrated time with her family, the two began learning about the town's underserved population. One day, Karina's relatives guided them to a poor area of Tuxpan, where they found a whole community in need.
Karina and Chris purchased groceries for the men, women, and children living there. The response they received passing out the food was, as Chris says, "overwhelming."
Shortly before Chris and Karina ended their visit to this community, Karina saw a little girl playing a made-up game with the only toy that seemed available. It was a Styrofoam ball, waiting to be crushed by one misstep. As they left for home, Karina told Chris, "We need to bring toys next time."
The Next Trip. And the Next.
After their wonderful experience together in Tuxpan, Chris and Karina visited Mexico more often. They continued to visit the underserved areas and delivered more food and necessities each time. On one trip, they brought soccer balls for the children of these families. The scene was one of sheer joy: kids finally had a chance to play like their futbol idols.
It was on one of these trips that Chris and Karina were engaged and now married. With each trip, more friends and family joined them in their visits to the underserved neighborhoods. They supported their efforts with donations of groceries, toys, clothing, and back-to-school supplies.
But there's more we can do, they said to one another.
Operation Devolver
Chris and Karina decided to formalize these trips so that more people could make the mission their own. They called the events
"Operation Devolver."
Devolver is the Spanish word for "return." For Karina, it means an opportunity to go home with an even greater purpose. For the couple, it means a chance to give back the good fortune they have had. For those who have joined them, it is an opportunity to "return" the goodness they know and to provide help to those in need.
Participate in an Event
If you want a personal connection to the Operation Devolver mission, we invite you to join us for our next trip to Tuxpan. Typically, trips take over three-to-five days. Here's a sample itinerary:
Events begin with a flight into Guadalajara, Mexico, where a ground team meets us at the airport and takes us to
purchase supplies / pick up donations.
Next, the ground team transports us to our staging area in Tuxpan. There, we prepare packages of goods for individual families. They include grocery items, household goods, and toys for children.
The following day, our team drives us to deliver packages to the underserved community in areas around Tuxpan. Participants have the opportunity to deliver these materials in person and to make a real connection with those in need.
After delivery, the ground team transports us back to our housing in Tuxpan where we stay the night. Our flight out of Mexico leaves from Guadalajara the next day.
Operation Devolver allows participants to experience the beauty and culture of Tuxpan and to help improve the overall community – as well as the lives of those who are receiving donations. Find out more about participating in our upcoming event.