This Year's Easter Event Is Almost Here!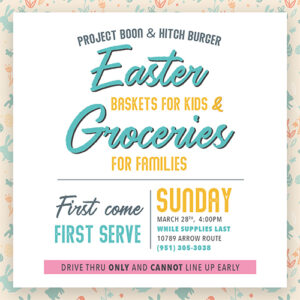 What a year it has been! It was right around this time last year that we had to cancel our traditional Easter Events and recalibrate to find ways to continue to help our community in the midst of a pandemic.
12 months later, here we are. We've successfully hosted multiple holiday drive-thru events, our donors and volunteers have shown up in ways we couldn't have even imagined and there is hope that things are finally turning around and getting back to normal.
As we prepare for our next drive-thru event, we want to thank you all for helping us stay true to our mission and continuing to help one another through this strange new world.
---
Our Easter Event is coming up fast and we are excited to help local families in need! We will be providing groceries for Easter dinner preparation and Easter baskets for the kids.
We look forward to seeing you! Please feel free to share this event with others in your community that may need a little help this holiday.🧡
---