Helping Kids Go Back To School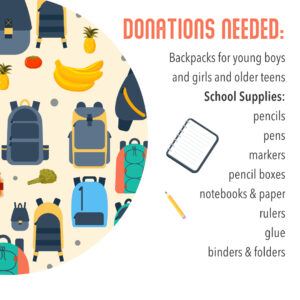 This year's backpack & grocery distribution is an opportunity to provide much-needed resources for kids preparing for the upcoming school year while also acting as an additional lifeline for those struggling to provide groceries and supplies to keep their families healthy.
---
We are fortunate to have Hillside Community Church partnering with us for this year's backpack event! Hillside reached out, eager to find a way to support Project Boon's efforts during this pandemic, just in time for our annual event.
They encourage their members and community to donate backpacks and school supplies and have organized two dedicated drop-off days. Anyone interested in donating for the backpack event can visit Hillside Community Church and drop off supplies via drive-thru, all while maintaining social distancing!
Thank you Hillside Community Church! Project Boon could not do this without the help of our strategic partners.
---