Give Back With Amazon Smile
Is your amazon account connected to Amazon Smile?
Easily give back to Project Boon as you shop Prime Day deals! You can connect your existing account to Amazon's charitable contributions platform, AmazonSmile, by signing in to your Amazon account below and selecting Project Boon. Amazon will automatically donate 0.5% of your final purchase price to Project Boon for items you already purchase!
You can also double contribute to our Back-To-School Backpack event by connecting your account to Amazon Smile and purchasing items from our Amazon wish list for our Back-To-School Backpack event in June you'll be donating tangible items to underserved families as well as a portion of your purchase donates to Project Boon to continue the giving.
We expect this year's Back-To-School Backpack Event to be bigger than ever, and we hope you'll consider joining us to help ease the weight local families are carrying on their shoulders.
---
Sponsor Spotlight
Donations do not go unnoticed. There are times when the difference in an event happening or being canceled comes down to one generous offer. These sponsor in particular, are directly responsible for our Back-To-School Backpack event being the success we are proud to share!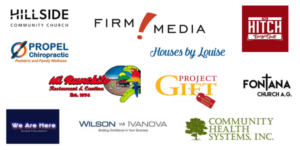 ---
Merch Alert
Show off your support in style!
Introducing our brand new Project Boon keychains!
Buy one or buy a few! These faux leather accessories are a great way to spread the word about Project Boon, and make excellent Father's Day gifts!
Visit our shop to get yours today!

---