Easter Drive-Thru Event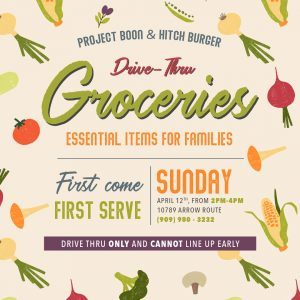 It's no secret that we are all struggling with the new normal. We can no longer come and go as we please, visit with friends and family or host large events for underserved families and those in need.
It's a strange time. But as we adjust, we find that there are always ways to give back. Whether it's supporting local businesses, virtually checking in on neighbors or finding ways to connect with those in need – while still practicing social distancing.
We will get through this. Together. ❤️
---
In an effort to help support the needs of underserved families in our region during this difficult time, Hitch Burger has partnered with Project Boon to host a drive-thru essential grocery pick-up.
On Easter Sunday, April 12th, from 2 pm-4 pm, we will be distributing groceries from the Hitch drive-thru to minimize contact and provide some much-needed relief to families and those in need.
Please be respectful and understand that large congregations of people are not allowed. All attendees must remain in their vehicles, and please do not line up early. We will be handing out the groceries on a first-come, first-serve basis until supply runs out.
Even the smallest act of kindness makes a big difference, and we are doing what we can to provide some normalcy to those families that rely on Project Boon's support this time of year.
---