Easing The Burden For Local Families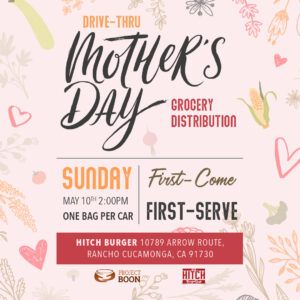 Thanks to overwhelming support from our incredible network of partnering businesses and generous individuals, we have met – even exceeded – our goal of raising $4,000 to fund out Mother's Day grocery distribution.
We are so grateful for the ongoing support even in these difficult times. You have all shown us the true power of community and how important it is to come together and find ways to give back when it seems impossible.
---
Project Boon and Hitch Burger are partnering up once again to provide groceries for underserved families in our community.
On Mother's Day, May 10th, starting at 2pm, we will be handing out bags of groceries from the Hitch Burger drive-thru to help relieve the burden and provide some much-needed support for those in need.
Groceries will be handed out on a first-come, first-serve basis and only one bag will be allowed per car. We understand that some people may want to help their neighbors by bringing back a bag for them, but to enable us to help as many families as possible, this rule must be enforced.
If you, or someone you know, is in need of some fresh fruit, vegetables or dairy items, please don't be afraid to stop by. Everything is routinely sanitized and the volunteers will be practicing social distancing to keep everyone safe. We are here for you, and although it will be from a distance, we truly hope to see you there.
---