This Free Event Provides Health Screenings, Back-to-School Backpacks, and a Warm Meal to Local Families in Need Every July.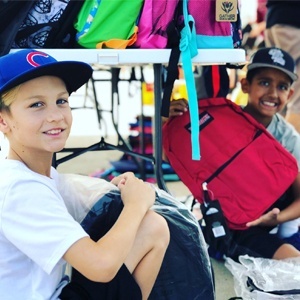 Project Boon teams up with the Bloomington Community Health Center (BCHC) each July for a Backpack Giveaway & Resource Fair in Bloomington, CA at 18601 Valley Blvd. Bloomington, CA 92316. The FREE event helps local residents in need by providing:
Pediatric, adult, and geriatric health screenings; dental screenings; optometry screenings; behavioral health screenings; and women's health services
Back-to-school backpacks with all the necessities for local school children
A warm meal provided by The Hitch Burger Grill
Project Boon, a local 501(c) (3) nonprofit that provides vital health, food, and community services to San Bernardino County and Jalisco, Mexico residents, matches Inland Empire volunteers with people in need. As Project Boon volunteer Karla Duarte puts it, volunteering is all about providing much-needed services to those who would otherwise go without.
"Helping others is my passion and purpose in life. Because we are only here for a short period of time, the only thing that truly matters in this world is the positive impact we have on each other," said Duarte. "With Project Boon, I have the opportunity to help people in need of basic necessities. There is nothing more fulfilling than to see the smile on someone's face as they are being served a big, warm meal. I volunteer because I want people who are in a hard place to know that we care and they are not alone."
To volunteer for the Backpack Giveaway & Resource Fair, contact Project Boon at (951) 305-3038.