Serving San Bernardino at IVRS & Project Boon's Annual Easter Luncheon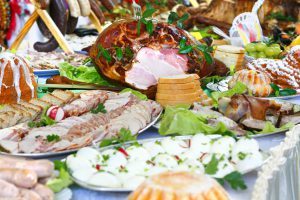 For many, Easter is a time to get together with family and friends to celebrate the coming of spring, not to mention it's the most important day on the Christian calendar. But for some San Bernardino County residents who live in underserved communities, there is little to celebrate this year as they will be unable to mark the day with the traditional ham and all the fixings, much less Easter egg hunts and baskets filled with candy. For this reason, local non-profits Project Boon and the Inland Valley Recovery Services (IVRS) are teaming up with Friendship Baptist Church to spread some holiday cheer by hosting the IVRS & Project Boon's Annual Easter Luncheon on Wednesday, April 12th from Noon to 4pm at IVRS, located at 939 N. D St. in San Bernardino, CA.
During this event, over 800 residents from local, underserved communities are expected to attend and receive a warm meal, as well as much-needed resources and holiday fun.
The day's activities include:
800 hot meals
Take-home food bags
Health and resource vendors
Clothes closet (men, women, children)
Easter Bunny with photo opportunity
Candy bags for all the kids
Games & crafts for the kids
Raffle, in which attendees can win prizes such as Easter baskets and bicycles.
In addition to the events listed above, the IVRS & Project Boon's Annual Easter Luncheon will provide music and entertainment throughout the day and include over a dozen vendors, each providing health and wellness services or access to much-needed local resources. Additionally, OmniTrans, San Bernardino County's Public Transit System, will be providing free all-day bus passes to residents who wish to attend the event. Interested residents can arrange to receive a free bus pass by contacting Project Boon or IVRS.
"The IVRS & Project Boon's Annual Easter Luncheon is about family, friends and connecting needy families to the local resources they need. It's an opportunity for attendees to, if only for a few hours, forget their worries and celebrate the Easter season." – Chris Suchánek, Executive Director of Project Boon.
Project Boon is a Rancho Cucamonga 501 (c)(3) nonprofit. To donate to Project Boon's many causes, click here. For more information about Project Boon or any upcoming events please call or contact Karla Duarte at 951-305-3038 or email kduarte@projectboon.org.