Seeking Volunteers for Eat & Be Well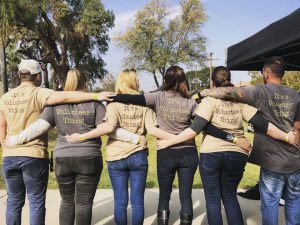 Project Boon is looking for volunteers for Eat & Be Well 2019. This annual event is a celebration of the Thanksgiving season. On Wednesday, November 27, 2019, Project Boon and hundreds of volunteers will meet at Fontana's Seville Park to serve 15,000 to 2,000 warm holiday meals to individuals and families in need. Through partnerships with local businesses and organizations, Eat & Be Well attendees will also have the opportunity to participate in a number of free health screenings and related services.
Here's How You Can Make A Difference This Thanksgiving
In order to serve as many people in need as possible this Thanksgiving season, we're currently seeking volunteers from throughout the Inland Empire to participate in this one-day event. Adults and minors ages 14-17 who are accompanied by an adult are welcomed and encouraged to register to volunteer here.
To help defray administration costs so that charitable donations can go directly to warm meals, and to schedule committed volunteers, anyone wishing to serve at Eat & Be Well 2019 is asked to pay an $8 T-shirt fee – which is the actual cost of making the event t-shirt with no added markup. As Project Boon Executive Director Chris Suchánek says,
"We understand the T-shirt fee can be seen as an inconvenience, so we thank you in advance for your understanding. Over the last few years we've seen a significant increase in "no show" volunteers. Over 50% of registered volunteers have not shown, called, or contacted us and this is making events increasingly difficult to facilitate. Volunteers not showing up to events, such as our Backpack event this year, led to the event starting late and making things difficult for all of the event coordinators, which then makes it problematic at best for attendees."
"For Eat & Be Well 2019, we decided to ask volunteers to make a little bit more of a commitment when registering. We understand that this might prevent some people from volunteering, but we are hopeful that it will end up attracting more of the serious volunteers in the region."
Seeking For Free Volunteer Opportunities?
If you want to help and are not able to purchase a T-shirt, check out our other free volunteer opportunities here.
If you have questions about Eat & Be Well 2019 or Project Boon in general, email info@projectboon.org.