Project Boon's 6th Annual Eat and Be Well Thanksgiving Event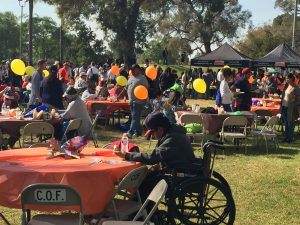 Thanksgiving is a time for family, reflecting on what we have been blessed with, and giving back. On Wednesday, November 22nd – the day before the annual turkey feast – local non-profit Project Boon and over 25 other local businesses, non-profits and government organizations will be teaming up in Fontana's Seville Park to help give thanks and bring the spirit of the season to the Inland Empire's underserved communities.
Beginning at 11:00am and running until 3:00pm, the 6th Annual Eat and Be Well event will provide Inland Empire families in need with a traditional Thanksgiving meal, access to health services and fun and entertainment for the whole family to enjoy.
With a goal of serving up to 2,500 attendees, Eat & Be Well has relied on more than 700 volunteers since its inception six years ago. Additionally, Eat & Be Well, which is run by a steering committee, spends 5 months planning for the holiday event, and coordinating with local businesses for food and health services donations like free flu shots, bus passes to travel to the event and haircuts.
"I love volunteering at Eat & Be Well," said Lisa Flores, an Account Executive at Firm Media in Ontario, California, one of the event sponsors. "Every year there are so many attendees, especially kids, all happy to enjoy a holiday meal together. It's a very rewarding experience."
Though this year's Eat & Be Well is just less than a month away, there are still opportunities for Inland Empire residents and businesses to get involved. Visit Eat & Be Well's website to learn about sponsorship opportunities, including monetary, food and health services donations. If you'd like to donate your time, you can also sign up to volunteer to help prepare meals in the week before the event, or serve meals and provide services on the big day.
For more information on how to volunteer, donate, sponsor, or attend, visit eatbewell.org.
For additional commentary from Project Boon or to schedule an interview with Chris Suchánek, please contact Jacqui Villalobos at (909) 395-3615 Ext. 200 or email j.villalobos@projectboon.org.