Project Boon Wraps a Successful Year of Community Service, Celebrating Amazing Partners and Donors
Project Boon looks back on a banner year, and an exciting milestone citing hundreds of thousands of meals provided, volunteer hours provided, and more.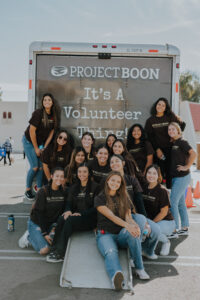 "We're thrilled to celebrate another successful year of service to our community"
— Christopher Suchánek
RANCHO CUCAMONGA, CALIFORNIA, UNITED STATES, January 31, 2023 /EINPresswire.com/ — Since 2011, Project Boon has harnessed the power of volunteerism to address food insecurity and other interrelated issues impacting Southern California communities. Year after year, the non-profit's network of partners and volunteers unite in striving for a greater cause: donating their time, effort, and resources to better their local community. These individuals are helping those in need live fuller lives through donation drives, giveaways, and other vital initiatives. Crossing the threshold of a new year, Project Boon looks back on 2022 as one of its best yet, citing the sheer number of people it served and a host of integral donors and partners.
"We're thrilled to celebrate another successful year of service to our community," says the organization's Executive Director, Christopher Suchánek. Suchánek cites several eye-catching stats that speak to Project Boon's overall impact: more than 35,000 meals provided, including 9,000 at the spring event, 7,000 at the back-to-school backpack event, 10,000 at the Eat and Be Well Thanksgiving program, and an additional 9,000 during the Christmas holidays.
These stats represent just the tip of the iceberg. Project Boon's busy 2022 also included 1,500 warm meals, 700 volunteers, 1,800 health resources packets, 1,000 toys, 900 springtime treat bags, and 2,000 backpacks loaded with school supplies.
Additionally the nonprofit is thrilled to announce that they have provided over 221,500 meals to Southern California families since its inception, as well as over 40,840 volunteer hours. Project Boon is committed to building upon these incredible milestones and making an even greater impact in the years to come.
Project Boon could only have accomplished what it did with the contributions of its incredible partnerships – Hitch Burger, Firm Media, Fontana Unified School District, Rialto Grocery Outlet, Community Health Systems, and the City of Fontana. Project Boon's major donors include the San Manuel Band of Mission Indians, Hillside Community Church, Fontana Foundation of Hope, Rancho El Rincon, The Ontario Stake of The Church of Jesus Christ of Latter-Day Saints, Fontana First Assembly of God, and Wilson Ivanova CPA's.