Project Boon Seeks Volunteers and Sponsors for Fontana's Eat & Be Well Thanksgiving Celebration Meal and Resource Fair
Thanksgiving is a time to reminisce, be with family and give thanks for what we've been given throughout the year. But for many Inland Empire area families and residents, the cost of a traditional Thanksgiving turkey meal with all the fixings isn't within reach this year. For this and many other reasons, Project Boon, a Rancho Cucamonga 501 (c)(3) nonprofit, along with its local Inland Empire partners, are hosting their annual Eat & Be Well Thanksgiving celebration meal and resource fair on Wednesday, November 23rd from 11am to 3pm at the Seville Park & Cypress Neighborhood Center in Fontana, California. Free tickets to the meal can be secured here.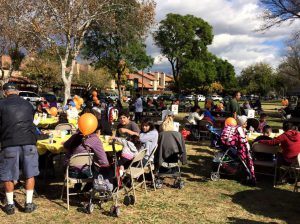 During this community event, Project Boon and their partners are expecting to feed up to 2,000 people a traditional holiday meal, prepared in advance at Rancho Cucamonga's Cowboy Burgers and BBQ. Project Boon will also help connect people to local resources that can help them find jobs, get job training and receive free health screenings and immunizations.
"Eat & Be Well is about more than coming together as a community to share a meal," said Chris Suchánek, executive director of Project Boon. "It's an opportunity for community organizations like our partners and the City of Fontana to come together to connect those in need with resources that can help lift them out of poverty, steer them towards better situations and set them on the right path for the future."
To make the 2016 Eat & Be Well event a success, Project Boon is currently seeking:
Food donations, especially turkey donations;
Volunteers to serve food and work the event;
Monetary donations to host the event; and
Community sponsors and organizations to share local resources and offerings with attendees.
If you are interested in participating in Eat & Be Well, please go to www.eatbewell.org to find out more.