Project Boon Partners with Inland Valley Recovery Services (IVRS) To Host The Upcoming Holiday Events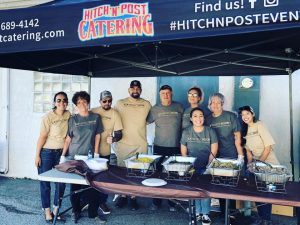 The Thanksgiving and Christmas seasons are upon us and that means that local non-profit Project Boon is once again teaming up with San Bernardino's Inland Valley Recovery Services to host holiday events. Project Boon will support these existing events, helping IVRS expand their reach to underserved communities and those in recovery, by hosting holiday meals along with health and wellness services for attendees.
In 2015, when IVRS was running their holiday event on their own, they were able to serve 200 of the San Bernardino area's most needy individuals. In 2016, with Project Boon's assistance and resources, that number jumped to serving 600 residents. This year, both IVRS and Project Boon are expecting even more attendees at both events. The Thanksgiving event will be held on, November 20, 2019 and the Christmas event on, December 18, 2019. Both events are from 12-4pm at the IVRS San Bernardino facility, 939 N. D St San Bernardino, CA.
In addition to serving up traditional, authentic holiday meals and a family-like environment to those who might not otherwise have them, the IVRS holiday events will provide:
Health and resource vendors
A clothing closet for men, women and children
Games and crafts for kids
Raffle prizes
A visit from Mr. Turkey & Santa Claus
Additionally, IVRS and Project Boon have arranged for free OmniTrans passes, San Bernardino County's Public Transit System, so that all interested attendees have a way of making it to and from the event. Interested attendees who need OmniTrans passes can contact Project Boon or IVRS to arrange to receive these passes.
Committed to helping those in need, especially people who are trying to better themselves or others, Project Boon's partnership with IVRS is its effort to make a difference in the Inland Empire recovery community. To help defray administration costs so that charitable donations can go directly to warm meals, and to schedule committed volunteers, anyone wishing to serve as a volunteer is asked to pay an $8 T-shirt fee – which is the actual cost of making the event t-shirt with no added markup. As Project Boon Executive Director Chris Suchánek says,
"We understand the T-shirt fee can be seen as an inconvenience, so we thank you in advance for your understanding. Over the last few years we've seen a significant increase in "no show" volunteers. Over 50% of registered volunteers have not shown, called, or contacted us and this is making events increasingly difficult to facilitate."
Here's How You Can Make A Difference This Thanksgiving
In order to serve as many people in need as possible this Thanksgiving season, we're currently seeking volunteers from throughout the Inland Empire to participate in this one-day event. Adults and minors ages 14-17 who are accompanied by an adult are welcomed and encouraged to register to volunteer here.
Seeking For Free Volunteer Opportunities?
If you want to help and are not able to purchase a T-shirt, check out our other free volunteer opportunities here.
If you have questions about Eat & Be Well 2019 or Project Boon in general, email info@projectboon.org.