Operation Devolver 16.3: Non-Profit Project Boon Spreads the Spirit of Feliz Navidad to Impoverished Families in Mexico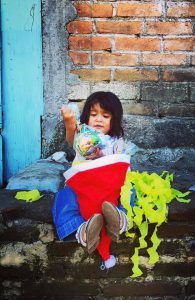 Christmas should be a time of celebration, family and wonderment. But for some children around the world, it's hard to get into the Christmas spirit when your basic needs of food, water and shelter are barely being met. This is the case of the children in Barranca, a tarp city south of Tuxpan in Jalisco, Mexico, where electricity and running water are sparse, and food and household supplies are bare.
This is where Project Boon, a 501 (c)(3) health and wellness non-profit dedicated to serving communities nearby and a world away, comes in. After visiting Barranca with his wife Ana Karina 5 years ago, Project Boon executive director Chris Suchánek knew that he and his family had to do something to give back. Having been blessed with two successful businesses in the stateside – Rancho Cucamonga's Cowboy Burgers & BBQ restaurant and Firm Media, a strategic digital marketing agency in Ontario, CA – the Sucháneks formed Project Boon, and have been serving the people of Barranca ever since.
Three times a year, Project Boon hosts Operation Devolver, or Operation Give Back in English, in which they bring basic household supplies, food, school supplies, sporting goods and toys to the families and residents of Barranca. Since its inception 5 years ago, Operation Devolver has distributed over 3,600 pounds of food and household necessities, 400 toys and sporting goods, and numerous school supply packages to Barranca residents. This December during Operation Devolver 16.3, the team's third trip to Barranca this calendar year, Project Boon will be focused on spreading the Christmas spirit by not only providing residents and families with basic necessities, but with Christmas gifts, too.
"It's impossible to visit Barranca and not want to give back," said Chris Suchánek. "I think we get more out of each visit to this tarp city than the residents and families we serve."
If you would like to donate food, household supplies, sporting goods, children's Christmas gifts or money for Operation Devolver 16.3, please contact Project Boon at (951) 305-3038.