Operation Devolver 16.2: Back to School Help for Impoverished Children in Mexico with Project Boon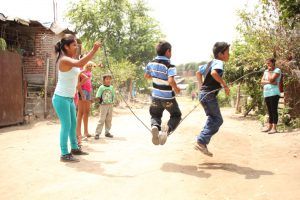 Summer is ending, and it's back to school time across the world as kids are heading into the classroom for another year of learning. Unfortunately, while some children may be ready to head back to school and hit the books, they may not all have the supplies they need in order to have a successful school year, or the resources to buy them.
Enter Operation Devolver 16.2 (or "Operation Give Back," in English). This special event hosted by Rancho Cucamonga based 501(c)(3) non-profit Project Boon, which helps people and communities around the world in need, is preparing to visit the tarp city of Barranca in Tuxpan, south of Jalisco, Mexico. In this impoverished district, many tarp homes are prone to flooding, and oftentimes families do without electricity, running water and basic household necessities, much less schools supplies like backpacks, notebooks and pencils. Project Boon and Operation Devolver 16.2 step in to lend Barranca residents a helping hand.
"When I first visited La Barranca with my wife five years ago, I knew we needed to do something to help," said Chris Suchanek, Executive Director of Project Boon, who along with his wife Ana Karina Suchanek is also the owner of the Inland Empire's Cowboy Burgers & BBQ and Firm Media, a strategic digital marketing agency. To date, Project Boon has donated 3,600 pounds of food and household necessities, 400 toys and sports goods, and numerous school supply packages to Barranca residents.
With three trips planned to La Barranca this year – all with a different theme of giving – Operation Devolver is heading down south again in August, just in time for the new school year. The team will distribute backpacks, school supplies, food and basic household items to kids and families in need.
"Our goal at Project Boon is that by helping the children in Barranca focus on their education, they will be able to rise above the poverty level and become successful, well-educated adults," added Suchanek.
If you are interested in helping donate school supplies to Operation Devolver 16.2, or if you are interested in participating in other Project Boon events, please contact us at (951) 305-3038.