Upcoming Backpack Event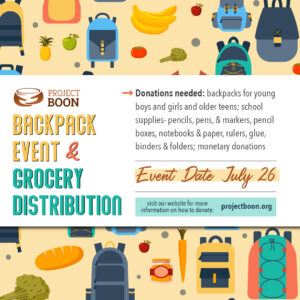 These past few months have been interesting – to say the least. Despite all of the challenges and changes happening in our community on a daily basis, we have found ourselves overwhelmed by the constant support of our incredible network of volunteers and partners.
We were able to meet our goal and host our second drive-thru grocery distribution with Hitch Burger in celebration of Mother's Day! We handed out 300 bags of groceries and not one family left empty-handed.
As we continue to navigate our new reality, Project Boon is finding new ways to give back to the community and we are grateful to have you all alongside us for the ride.
---
In partnership with Hitch Burger, Hillside Community Church and OmniTrans, we are collecting donations for our upcoming backpack & grocery distribution. This annual event (although slightly tweaked this year due to COVID-19), is an opportunity to provide much-needed resources for kids preparing for the upcoming school year and is an additional lifeline for those struggling to provide groceries and supplies to keep their families healthy.
A very special PB thank you to these partners for their support!
Please donate what you can to the drop off locations listed below:
Firm Media
1047 W. Sixth Street
Ontario, CA 91762
Hitch Burger
10789 Arrow Rte.
Rancho Cucamonga, 91730
Hillside Community Church
5354 Haven Ave.,
Rancho Cucamonga, CA 91737
*Hillside is only accepting donations during the following times:
Sunday, July 12th: 1-5pm
Monday, July 22nd: 3-6pm
---