Kicking Off The Summer With Gather, Give & Grow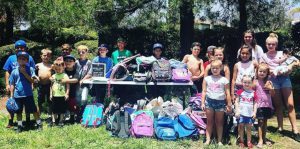 We had a great time helping out our friends, Gather, Give & Grow, with their backpack event collecting school supplies for the upcoming school year!
It was so exciting to partner with this up-and-coming organization and see their passion for educating children about the importance of giving back. The best part is that they have donated all of the school supplies collected during the event to Project Boon in support of our Operation Devolver Back to School event coming up very soon!
Thank you to everyone that came out to participate and help spread the word about this great group of people!
---