Eat & Be Well Returns to Support the Underserved in San Bernardino County this Thanksgiving Season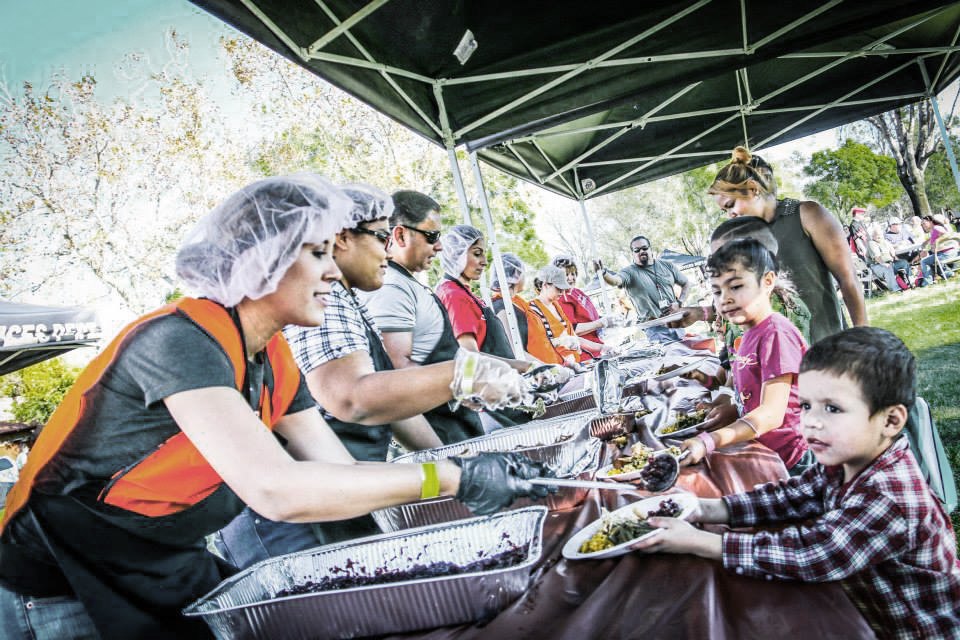 With the objective to serve 2,500 plates this year, the Eat & Be Well steering committee looks forward to providing a hearty Thanksgiving meal to those in need during its second annual, one-day event.
A follow-up to its successful experience last year, Eat & Be Well is back this Thanksgiving season! The second annual, one-day event will be held on November 27, 2013 at Seville Park & Cypress Neighborhood Center in Fontana, California.
Led by a socially conscious steering committee from the Inland Southern California's business and non-profit communities, including co-founders Christopher A. Suchánek (CEO/Firm Media) and Ana Karina Suchánek (Owner/Cowboy Burgers & BBQ), Eat & Be Well supports the underserved of San Bernardino County. Not only does this occasion provide a hearty Thanksgiving meal to the community, it provides participants access to free health and wellness resources. Thanks to the collaborative efforts of the steering committee and its alignment with a variety of organizations and vendors, Eat & Be Well is able to offer a diverse array of services to those in need.
"Teamwork is a huge part of making an event of this size a reality. Many hands make heavy-lifting easier," says Christopher A. Suchánek. Of the many hands involved in the steering committee, Catina Mount is a proud member who feels that the group is "more like being with good friends than on a 'committee.'" Mount, the Senior Staffing Supervisor at Riverside Personnel and blogger of CatinasCauses.com, has also gained a great deal of knowledge regarding the process of planning the Eat & Be Well event. "I am learning so much more about the value of networking and the internet and, how together, this combination can move people to do great things," says Mount.
Last year's Eat & Be Well event was a success right off the bat, pulling in 20+ nonprofit, for profits, and county and government agencies together to work together to serve 1,600 plates and provide health services. The steering committee's objective for this year's event is to serve 2,500 plates, while maintaining the overall goal and vision of being able to "establish consistency" with Eat & Be Well. "I believe that when people start to see this as a regularly scheduled event, it will gain recognition and reaction in the community. I believe this will attract more support for the people," says Christopher A. Suchánek.
According to Josiah Bruny, a member of the steering committee and founder of Music Changing Lives (MCL), a non-profit organization that sets out to provide the highest quality of music and art enrichment programs to underprivileged and at-risk youth, the second annual Eat & Be Well event will be "bigger and better!" No stranger to Eat & Be Well, Bruny was a part of last year's steering committee and looks forward to MCL continuing to contribute to this one-day Thanksgiving event. "Music Changing Lives' performers and artists are looking forward to giving a holiday cheer like no other," he says. Providing nourishment and other services to people in need this Thanksgiving season, Eat & Be Well is positioned to continue to make a difference!