A Chance Encounter Leads Project Boon to Launch an International Reading Program in an Unexpected Place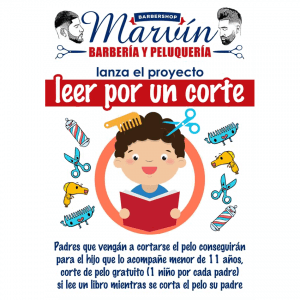 Sometimes a seemingly random moment can change the lives of many. That was the case for Chris Suchanek, executive director of Project Boon, a Rancho Cucamonga based 501(C)(3) non-profit dedicated to helping communities nearby and a world away, and Serge, a new Spanish business owner of a Seville barbershop.
Suchanek, who along with his wife Ana Karina, is the owner of the Inland Empire's Cowboy Burgers & BBQ and Ontario's Firm Media, a strategic digital marketing firm, were recently on vacation in Seville, when they noticed a new, but relatively empty barbershop. Figuring he was due for a haircut, Chris stopped inside and chatted with Serge.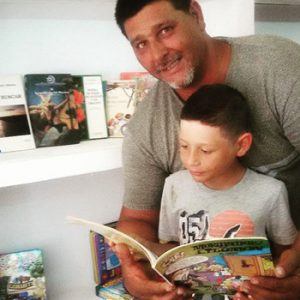 Before you knew it, the two businessmen had struck up a conversation about how to drum up a booming clientele for the barbershop, which had just opened the week before. Noticing a bunch of empty bookshelves, Chris suggested a unique idea to Serge. What if Project Boon filled those bookshelves up with children's books, and kids age 10 and under could get a free haircut if they read a story while their parent got a cut or a shave? It would give Serge a unique selling proposition to market, and it would help Project Boon promote education – one of its core causes.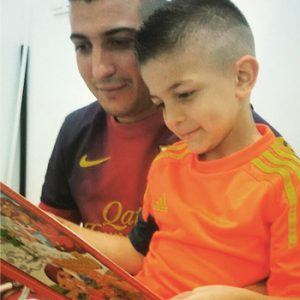 Serge loved the idea, and by the next day, Chris and Ana Karina had returned to the barbershop with children's stories galore for Serge's empty bookshelves. Several months after their vacation to Spain, Chris and Ana Karina still stay in touch with Serge, who says business is doing great. "We love it when Serge sends us photos of children reading in his barbershop," said Chris. "It goes to show that a little creativity and altruism can go a long way to sparking a child's interest in reading and education, and help support a new local business."
If you are interested in learning more about Project Boon, including the various events it hosts in the Inland Empire and around the world, visit www.projectboon.org or call 951-305-3038.