Empowering people next-door and a world away
DONATE
Meaningful Experiences.
Lasting Good.
Project Boon amplifies the power of community through events that bring together committed individuals, organizations, and the underserved.
Our name, boon, means the general good created by meaningful, accessible action. It comes out of a simple idea: that we're all connected, and we all have the ability to help one another.
Why Project Boon?
Project Boon operates events that bring together those in need, those willing to help, and the resources that make a difference.
When we were children, the neighborhood pulled together when a family down the street faced tough times. Our community made an immediate impact, and we knew the human connection.
Now, our mission is to help people connect with and rediscover the community to which we all belong—next door or a world away—by supporting our neighbors in need.
About Project Boon
Project Boon, a 501(c)(3) nonprofit organization, is based in Rancho Cucamonga, California. We act as the organizing force behind a host of events every year, and while assisting the underserved is one of our primary achievements, we are also proud to:
Show people the power they have to change the lives of others and how to use this knowledge.
Offer a meaningful experience to the beneficiaries, participants, donors, and sponsors of events and create a lasting sense of community following these events.
Engage professionals, executives, and companies, demonstrating the human impact of their business contributions.
Be Part of the Community. Explore Our Life-Changing Events.
DONATE
Project Boon Events
Operation Devolver
Established in 2011
Operation Devolver organizes volunteers, food, household necessities, and children's toys for underserved areas of Tuxpan, a town in southern Jalisco, Mexico.
Several times a year, Operation Devolver sends participants to deliver these much-needed resources and to connect with the neighborhoods they assist. The contributions improve the impoverished conditions of the families and children living in Tuxpan and help to create a stronger global community.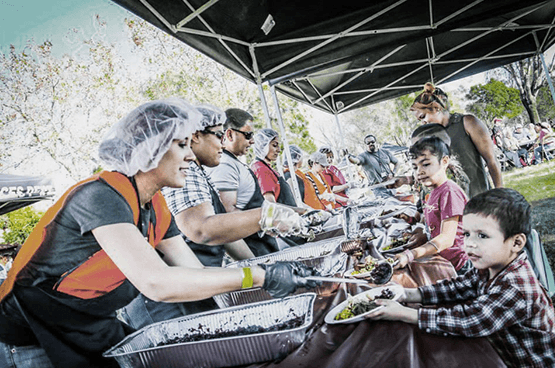 Eat & Be Well
Established in 2012
Eat and Be Well celebrates the Thanksgiving season by supporting the underserved with a traditional holiday meal.
The event, held yearly in San Bernardino County, California, brings together the resources and volunteers of public agencies, businesses, nonprofits, and community participants. Attendees can also explore social services that can help change their lives.